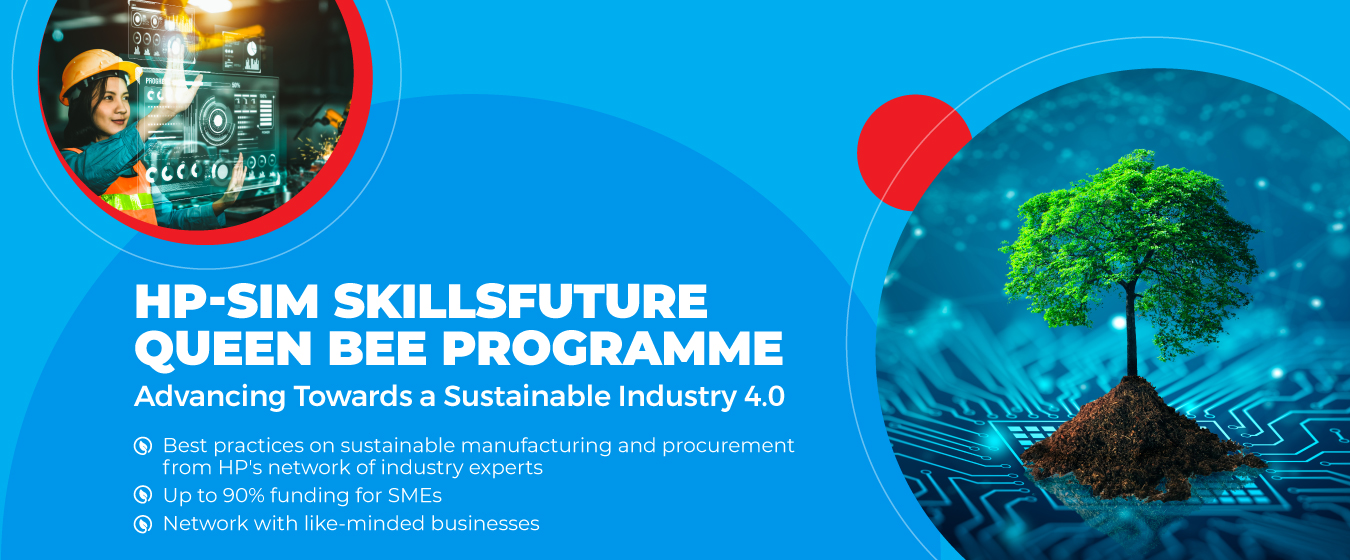 About HP-SIM SkillsFuture Queen Bee Programme
The manufacturing sector has been rapidly evolving in the age of industry 4.0. Coupled with the looming climate threats, the industry is under increasing pressure to transform towards a sustainable operating model.
In support of Singapore's Manufacturing 2030 vision, HP and SIM jointly present the HP-SIM SkillsFuture Queen Bee Programme designed to help uplift the skillsets of the ecosystem towards Industry 4.0. This programme serves as a guide to enable enterprises to kickstart their journey and address critical challenges and needs in Sustainable Manufacturing.
Join the programme today to learn cutting-edge skills and obtain industry insights from HP's network and experts in areas of sustainable product design, ethical sourcing, green building and facilities management, systems thinking and problem solving.
Driving Towards A Sustainable Manufacturing
SkillsFuture Funding Available
Eligibility

Individual

(Self-Sponsored)

Non-SME

(Company Sponsored)

Singapore Citizens (SCs) and Permanent Residents (PRs) and Long Term Visit Pass (LTVP+) Aged < 40 years old
Up to 70% course fee
Up to 70% course fee
Up to 90% course fee
Singapore Citizens (SCs)
Aged ≥ 40 years old
Up to 90% course fee
Up to 90% course fee
*Terms & Conditions Apply