Digital Transformation through Design Thinking for Sustainability
HP – SIM SkillsFuture Queen Bee Programme
The experience was unique and unlike any other course I have attended. The course was fun and interactive. In one of the activities, we even had the chance to interview and interact with SIM students which I thought was a memorable experience.
From the course, I learnt the importance of digital transformation and how to problem-solve through design thinking. I have definitely applied design thinking in my work process to enhance my productivity and efficiency. The courses are in my opinion well-designed, and the knowledge gained can be applied in work situations.
- Tay Kit Huat
Procurement Engineer, Printers Procurement & Cost Management
HP
This workshop is specially tailored to train participants in augmenting human-centred design thinking with the breath-taking power of technology. They will learn useful skills and tools to propel the manufacturing sector forward in addressing wicked industry challenges and creating blue ocean innovations. The workshop will blend new and existing technology to the solutioning process, so that user-centricity is enhanced for a more impactful digital transformation journey.
Understand the common blind spots of problem-solving and innovation
Appreciate the importance of empathy for key stakeholders
Recognise the dangers of making unvalidated assumptions
Learn the value and tools of design research
Learn the tools to identify pain points in stakeholders (Persona Map, Journey Map)
Apply root cause analysis to define the insights to pain points
Leverage digital solutions to address the root causes
Prototype the top solution for stakeholder testing and refinement
Learn pitching techniques to get stakeholders' buy-in for the top solution
Staff who would like to learn how to use design thinking to solve challenges or to come up with new innovations related to digital transformation.
2 Days In-Person Classroom Training (16 Hours Including Group Project Assessment)
After the course, trainee who had fulfilled the course requirements of
75% class attendance and
Attained a 80% competency for the assessment
Will receive a Certification of Achievement from Singapore Institute of Management (SIM).
Joel Alexander Ng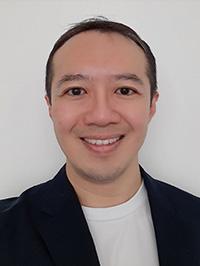 Joel is the founder of GRASP Guru International, a multinational company passionate about training and consultancy. His concurrent appointments are Senior Partner, Disruption Management with Lim-Loges and Masters, and Program Facilitator with DesignSingapore Council's School of X.
He has over 20 years of design consulting experience, including Senior Service Designer (GovTech) where he led his team to implement keystone Smart Nation Singapore projects with MOM, MFA and MSF; Innovation Lead (MHA) where he led his team to develop and execute island-wide Transformation projects with Home Team agencies; and partnering the Singapore Manufacturing Federation and NTUC to guide manufacturing SMEs in planning and implementing digital initiatives with a focus on sustainability.
Joel is the inventor of the proprietary GRASP™ methodology that combines Design Thinking, Behavioural Insights and Lean Processing principles into a single toolkit. He published Innovation within GRASP™ - the Ultimate Cheatbook in Innovative Solutioning, a Practitioner's Playbook for the GRASP™ methodology.
Joel is certified by IDEO-U in Foundations in Design Thinking, Insights for Innovation, and From Ideas to Action. He is ACTA-certified and layers on his Design Thinking and innovation expertise with his Bachelor of Electrical Engineering from the National University of Singapore and a Graduate Diploma in Leading and Sustaining Change from Singapore's Civil Service College.
Course Fees Including Prevailing GST Rates
Full Fees (before GST): $1,300.00
GST payable for all funding-eligible applicants*: $31.20
GST payable for others: $104.00
Applicants/Eligibility

1. Singapore Citizens aged 40 and above (individual or company-sponsored)1


up to 90% SkillsFuture Funding
$161.20

2. Singapore Citizens aged below 40 (individual or company-sponsored)


up to 70% SkillsFuture Funding
$421.20

3. Singapore Permanent Residents and LTVP+ Holders (individual or company-sponsored)


up to 70% SkillsFuture Funding
$421.20

4. SME-sponsored2 Singapore Citizens, Permanent Residents and LTVP+ Holders


up to 90% SkillsFuture Funding
$161.20

5. Others (individual or company-sponsored)


full fees payable
$1,404.00
*As per SSG's policy, the GST payable is calculated based on 8% of the nett fee payable after baseline funding subsidy of 70%.

GST payable subjected to revision.

Singaporeans aged 25 years and above may use **SkillsFuture Credit balance to offset respective course fees.

1 Under the SkillsFuture Mid-career Enhanced Subsidy. For more information, visit the SkillsFuture website here.

2 Under the Enhanced Training Support for Small & Medium Enterprises (SMEs) Scheme. For more information of the scheme, click here.