Innovate for the Sustainable Circular Economy
HP – SIM SkillsFuture Queen Bee Programme
I learnt various strategies for designing a product to be sustainable, as well as, business models that incentivize design for sustainability. The CIRCO course is also designed to be very applicable and action oriented, especially if you touch any part of the product development process, rather than just theory based.
- Timothy Chua
MyPrintSg Leadership Trainee, PHS R&D
HP
The current economy's unsustainable practices have severe consequences for our environment and economy, with a staggering 91% of resources extracted from the earth going to waste. Moreover, many production processes are at risk of depleting their virgin feedstock in the near future. However, the good news is that embracing sustainability is not only beneficial for the planet but also for businesses and individuals.
In this hands-on 3-day course, companies and entrepreneurs will delve into an alternative way of conducting business and designing green products and services: the Circular Economy. Drawing on world-class research from a leading university in this field, the CIRCO methodology empowers business owners with practical knowledge of circular business models and design principles.
By the end of the course, participants will gain valuable insights and actionable frameworks to embrace circularity. They will also receive a tailored roadmap for their own green transformation. The CIRCO methodology has successfully trained numerous companies across various sectors worldwide, including manufacturing, consumer goods, hospitality, healthcare, and the built environment.
Understand circular economy and its relevance to your business
Uncover the inefficiencies and value destruction in the current linear value chain
Explore Circular Business Models and Cirular Design Strategies
Receive an actionable roadmap for successful implementation and transformation
Companies/ Business Owners exploring sustainable transformation of their business and operations
Designers and Product Managers who are developing green products and services – a good understanding of the organisation's product offering and business model is necessary
Companies are encouraged to join in teams to tackle real-life business challenges and take tangible steps towards developing circular initiatives.
3 Days In-Person Classroom Training with Self-Guided Work In-Between Sessions (24 Hours Including 15 Mins Project Presentation)
After the course, trainee who had fulfilled the course requirements of
75% class attendance and
Attained a 80% competency for the assessment

Will receive a Certification of Achievement from Singapore Institute of Management (SIM).
Karin Aue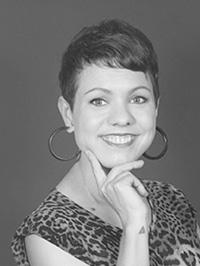 Karin is a Design Designer and Partner at Chemistry, a strategic experience design consultancy in Singapore and Amsterdam. With over 17 years of experience, Karin has honed her consultancy expertise while working for some of the leading agencies such as IDEO.
Karin's natural leadership qualities and passion for impact-driven projects enable her to unpack multifaceted problems, resonating with a wide range of stakeholders and inspiring them to solve complex. Her international experience, combined with her skills in strategic design, help her create meaningful new ideas grounded in real human needs.
Karin has delivered highly successful projects for both corporate and public sector clients, such as HP, Konica Minolta, IMDA, Singtel, Singapore Tourism Board, and Changi Airport. She is regularly engaged to deliver knowledge leadership sessions on Planet-Centred Design for organisations like Visa, Civil Service College, and General Assembly.
Karin holds an MA in Creative Practice for Narrative Environments from Central Saint Martins, London, and a Magister in Communication Design from the University of Applied Arts, Vienna. She is an accredited trainer with the Civil Service College, and a certified ACLP trainer as well as certified with CIRCO to run circular and sustainable design sprints.
Full Fees (before GST): $1,950.00
GST payable for all funding-eligible applicants*:$46.80
GST payable for others: $156.00
Applicants/Eligibility

1. Singapore Citizens aged 40 and above (individual or company-sponsored)1


up to 90% SkillsFuture Funding
$241.80

2. Singapore Citizens aged below 40 (individual or company-sponsored)


up to 70% SkillsFuture Funding
$631.80

3. Singapore Permanent Residents and LTVP+ Holders (individual or company-sponsored)


up to 70% SkillsFuture Funding
$631.80

4. SME-sponsored2 Singapore Citizens, Permanent Residents and LTVP+ Holders


up to 90% SkillsFuture Funding
$241.80

5. Others (individual or company-sponsored)


full fees payable
$2,106.00
*As per SSG's policy, the GST payable is calculated based on 8% of the nett fee payable after baseline funding subsidy of 70%.

GST payable subjected to revision.

Singaporeans aged 25 years and above may use **SkillsFuture Credit balance to offset respective course fees.

1 Under the SkillsFuture Mid-career Enhanced Subsidy. For more information, visit the SkillsFuture website here.

2 Under the Enhanced Training Support for Small & Medium Enterprises (SMEs) Scheme. For more information of the scheme, click here.