Industry 4.0 and Sustainable Manufacturing: Technologies and Best Practices
HP – SIM SkillsFuture Queen Bee Programme
I learnt about the integration of advanced technologies, data-driven decision-making, and sustainable practices in manufacturing processes. Understanding how these technologies work together and their potential applications; how to collect, analyze, and interpret data can provide valuable insights for process optimization.
Industry 4.0 technologies and sustainable practices are transforming the manufacturing landscape. By attending these courses, individuals can stay updated with the latest trends and developments, ensuring they remain relevant and competitive in their field.
- Myo Than, Ma Yi Yi
Specialist Engineer, Silver Fit Fab. (STO)
HP
Industry 4.0 represents the next wave of technology driving efficiency across operations. There are several key reasons why Industry 4.0 technologies will increasingly be adopted by manufacturers:
Cost Efficiency
Democratizing Data
Operational Agility
Documentation and Traceability
Retaining Customers
Sustainable development in the Industry 4.0 context contributes to circular economic objectives by achieving social, economic, and environmental benefits. Triple bottom line studies mainly focus on Industry 4.0 adoption and implementation, sustainable supply chains, smart and sustainable cities, and smart factories.
This 2-day introductory course helps upskill participants with basic knowledge to achieve sustainability goals in the context of SMART manufacturing and Industry 4.0.
SMART manufacturing and Industry 4.0 and apply various applications and drivers used in Industry 4.0
To apply the outcome of Industry 4.0 and Singapore's SIRI in the transformation of Industry 4.0
Digitization strategy and new business models in Industry 4.0
Understanding of the background history and concept of Sustainability and related terminologies
Understand Sustainability and related terminologies
To understand what Sustainability and how sustainable manufacturing adds value to your business
Professionals who are tasked to implement SMART Manufacturing using the Industry 4.0 framework and achieve sustainability goals at the same time.
Basic understanding of manufacturing operations
2 Days In-Person Classroom Training (16 Hours Including 30 Mins Assessment)
After the course, trainee who had fulfilled the course requirements of
75% class attendance and
Attained a 80% competency for the assessment
Will receive a Certification of Achievement from Singapore Institute of Management (SIM).
Kung Thian Hwei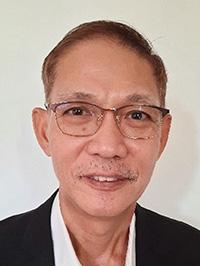 Thian Hwei is an IT practitioner, experienced in IT applications and infrastructure for Infocomm (ICT) and high tech manufacturing industries with more than 30 years in manufacturing environment with MNC like Makino, Sanmina-SCI, Infineon Technologies.
In Makino and Sanmina-SCI, Thian-Hwei served in regional leading role in the organisations, leading teams in area of technology, digitization, leading the organisation in Industry 4.0 efforts. In this role, he worked with business to deliver IT projects, solutions and digitization across the companies.
With many years in diverse manufacturing sectors, Thian Hwei has acquired experiences and knowledge in manufacturing processes and systems. He is able to share best practices in the use of technologies in the manufacturing industry sector to support businesses.
Thian Hwei is previous experiences include facilitating the Advanced Manufacturing modules in SIM and sharing the concepts and experiences of digitization in manufacturing.
In addition, Thian Hwei is also facilitates in National University of Singapore computing programmes in the area of information technology.
Thian Hwei holds a degree in Engineering from National University of Singapore, and been ACLP certified.
Course Fees Including Prevailing GST Rates
Full Fees (before GST): $1,350.00
GST payable for all funding-eligible applicants*: $32.40
GST payable for others: $108.00
Applicants/Eligibility

1. Singapore Citizens aged 40 and above (individual or company-sponsored)1


up to 90% SkillsFuture Funding
$167.40

2. Singapore Citizens aged below 40 (individual or company-sponsored)


up to 70% SkillsFuture Funding
$437.40

3. Singapore Permanent Residents and LTVP+ Holders (individual or company-sponsored)


up to 70% SkillsFuture Funding
$437.40

4. SME-sponsored2 Singapore Citizens, Permanent Residents and LTVP+ Holders


up to 90% SkillsFuture Funding
$167.40

5. Others (individual or company-sponsored)


full fees payable
$1,458.00
*As per SSG's policy, the GST payable is calculated based on 8% of the nett fee payable after baseline funding subsidy of 70%.

GST payable subjected to revision.

Singaporeans aged 25 years and above may use **SkillsFuture Credit balance to offset respective course fees.

1 Under the SkillsFuture Mid-career Enhanced Subsidy. For more information, visit the SkillsFuture website here.

2 Under the Enhanced Training Support for Small & Medium Enterprises (SMEs) Scheme. For more information of the scheme, click here.