Introduction to Project Management for Sustainable Development
HP – SIM SkillsFuture Queen Bee Programme
Project Management methodologies like Critical Path Analysis and calculating project floats are instrumental in undertaking any projects. This course enabled me to see how we can apply project management into sustainability projects in the areas of SMART manufacturing.
- Ivan Tan
APJ Theatre Lead for Simplify Programme, CS Supply Chain, APJ
HP
This course is an overview of essentials in project management philosophies. This three days course covers the fundamentals of project management. This course also focuses on sustainability. The learners will have a good understanding of how to use the modern project management concepts, such as traditional project management, Agile project management and also business analysis in a VUCA environment.  
The tools and best practices of project manager
The project management process and lifecycle
Organizational theories and leadership styles
Increasing one's credibility and effectiveness in leading projects
Agile management
Business analysis in a manufacturing environment
New Managers, Managers, Senior Managers & Directors
Learners are to have knowledge of the Manufacturing environment and experience working in project settings.
3 Days In-Person Classroom Training (24 Hours Including 90Mins Assessment)
After the course, trainee who had fulfilled the course requirements of
75% class attendance and
Attained a 80% competency for the assessment
Will receive a Certification of Achievement from Singapore Institute of Management (SIM).
Lavanya Arul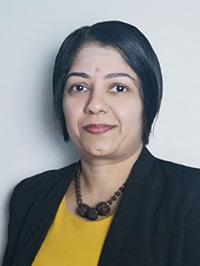 Lavanya has spent about 20 years in IT industry. Starting as a programmer in Compaq, Malaysia and had grown all the way up to be a project manager with Hewlett-Packard Singapore. Later she joined Microsoft Singapore as a consultant, mainly taking care of service delivery management and Project Management. She implemented TDD and XP practices and change and release management in her work environment, managing a virtual team from China, Hong Kong and India.
Since 2006 she has been a trainer and coach in Project Management (Agile and Traditional), process management and leadership skills. She has delivered courses and coached teams across Asia, Middle East and in Europe.
Today, as a freelancer trainer, facilitator, and coach, Lavanya is working with project teams to help them successfully transform into a self-organizing team and coaching in Agile and Risk management. She has also worked on areas of training management for Henkel, Bosch, Alcatel etc to name a few. She is experienced in quickly understanding complex objectives, managing cope and building stakeholder consensus to a structured delivery approach. She collaboratively manages global team resources to deliver objectives and relies on extensive technical background especially in Microsoft technologies to quickly assimilate new information technologies. Lavanya acts as the calming influence in resourcing matrices of objectives, cultural differences, vague and politically charged cross-functional activities.
Full Fees (before GST): $1,950.00
GST payable for all funding-eligible applicants*:$46.80
GST payable for others: $156.00
Applicants/Eligibility

1. Singapore Citizens aged 40 and above (individual or company-sponsored)1


up to 90% SkillsFuture Funding
$241.80

2. Singapore Citizens aged below 40 (individual or company-sponsored)


up to 70% SkillsFuture Funding
$631.80

3. Singapore Permanent Residents and LTVP+ Holders (individual or company-sponsored)


up to 70% SkillsFuture Funding
$631.80

4. SME-sponsored2 Singapore Citizens, Permanent Residents and LTVP+ Holders


up to 90% SkillsFuture Funding
$241.80

5. Others (individual or company-sponsored)


full fees payable
$2,106.00
*As per SSG's policy, the GST payable is calculated based on 8% of the nett fee payable after baseline funding subsidy of 70%.

GST payable subjected to revision.

Singaporeans aged 25 years and above may use **SkillsFuture Credit balance to offset respective course fees.

1 Under the SkillsFuture Mid-career Enhanced Subsidy. For more information, visit the SkillsFuture website here.

2 Under the Enhanced Training Support for Small & Medium Enterprises (SMEs) Scheme. For more information of the scheme, click here.